Jambo, Africa!
Five weeks down, and too few to go so I'm not counting because I never want any of this to end. It's time for my week 5 recap, which also means week one of living in Africa. And I've got to be blunt here: it shook my world. A lot. This week was tough, and it involved a lot of meditational breathing in situations that I felt pretty uncomfortable in.
Writing this now, I feel completely different about Morocco. But reminiscing on the first week here is bringing back memories. I was scared. Afraid to go out alone. Sick. Tired. Couldn't sleep. Felt weird in my new home with a roommate that I hardly knew. Felt disconnected from everyone that I had just made friends with in Portugal.
Quick backstory: we were all living in two giant adult dorms last month in Portugal, which allowed us to really bond with the people that lived there. You could go outside in the garden and people would be having wine. You could work from a coffeeshop nearby and see four friends pass by. You could go to lunch for pastries on a Tuesday and suddenly end up in the basement with seven people and three bottles of champagne, while working and playing the song Don't You Want Me on repeat in the style of way too many different artists. (Seriously, how many people have remade this song?)
Morocco is different. We're spread out among 20ish different apartments, all over the city. It's shocking to come from something so dense with people and community to a place where you feel so far away from everyone and everything. Even our workspace is at least a 15 minute car ride away.
That being said, I'll elaborate on my change of heart in next week's recap. But for now, here are feelings and things I did in the first week of living in Rabat. I:
Freaked out. I know, I know, I already said this. But for the sake of transparency, if you REALLY want to know how I felt about the first 24 hours, my roomie Sonia and I can tell you that we had no idea what to do. We got home at 3 AM after surviving a gruelling travel day. And we sat. In our new living room, we sat, two strangers, staring at our new home for the month. It felt odd. We couldn't even sleep. We sat, awake, tired, confused, and frazzled by the jolt of energy that sparked from our feelings of discomfort. We took in the scents of someone else's home that would now be ours. "Will we smell like this when we leave every day?" I thought to myself. It's something you never really think about, but it definitely crossed my mind. TL;DR our senses were playing tricks on us and we were hella shell-shocked.
fell in love with our new workspace. Last month, I hardly went to the workspace. I prefer to work from coffee shops or anywhere that doesn't resemble an office. Portugal's workspace was a little cold for me and resembled the "open desk policy" atmosphere that I left behind in Dallas. This one? Right up my alley. A berber tent on the roof DEFINITELY isn't an office I've ever worked in. Fire up my Macbook and call me Jasmine, baby.
got my first henna tattoo! Then later learned that the one I picked meant I was "looking for a husband". Thanks for the catcalls, henna!
went to McDonalds for the first time in, oh I don't know, maybe 8 years. I had a kids meal. Screw adulting. Also, it's super expensive here. You can get a pizza or a giant chicken shwarma plate for $2, but a kids meal from McDonalds is $5. If you flirt with the cashier, you can even get a free ice cream cone! Don't mind me, just living the American Dream here.
walked through the medina and took in all the sights, and smells, both good and 'ohmygodwhydidicomehere' bad. But I loved every second.
had flashbacks of my pet turtle, Peter, who ran away when I was about nine years old. Peter was a great turtle. We fed him prickly pears and I talked to him far too often. "How's the temp in your shell? Can I try that prickly pear? What's the deal with airline food?" He spoke in a British accent in my mind, and I preferred to think of him as "Pee-tuh". Anyway, one day, my dad and I were having a "Splash Day". We got out the hose, AKA the Poor Man's Pool, and basically he just sprayed water everywhere. My mum let Pee-tuh out for some fresh air (wow guys I'm Brit now, deal with it, mate) and we never saw him again. I have this theory that he hitchhiked his way across the US with a little knapsack and the dream of becoming of Getty Images model. ANYWAY... Turtles are a delicacy here and it made me really sad seeing this. Hopefully Peter has a plan to rescue them.
partied on a pirate ship. Our welcome party for this city was AWESOME. It was also the first time I drank since being in Portugal. The drinking has really slowed down, and my liver is super pumped about it, but my stomach could care less. Anywho, this involved a lot of dancing, singing, and all around fun. It felt like things were starting to fall into place here, and being together in a big group again just felt like home. *cue the AWWWWWs*
took a quick trip to a nearby town with a small group of awesome remotes. Sale (there should be an accent mark on that e but Mercury is in retrograde and I can't figure it out so) is a town 20 minutes away from Rabat that feels way less touristy and very authentic. We walked around, found a guy who was willing to show us some cool places (for a fee, of course), got followed around by some kids, saw the entire Quran written inside of a school, and were offered marriage in exchange for seven camels.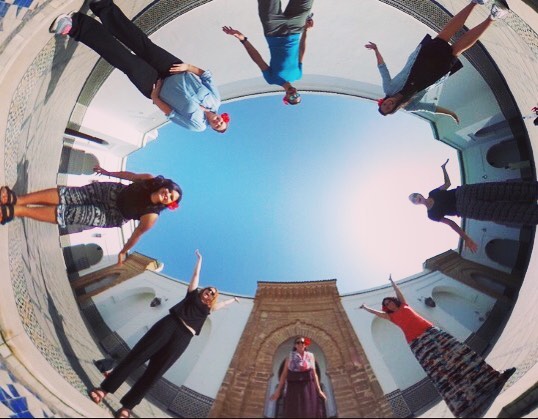 Discovered more weird food. Calf legs and sheep brains, comin' right up!
Work, work, work, work, worked. And didn't. I missed an interview for something and kicked myself several times. It was at 11 PM my time, so I stayed at the workspace, waiting. When I got online, I realized the group wasn't on there, so I emailed the woman that set it up. "That interview was yesterday" was the response. No punctuation. Savage. I emailed back explaining I had just moved to Morocco and I sincerely thought today was Wednesday when it was in fact Thursday. No response. Well, what can you do? I blame it on Mercury retrograde.
COMING UP! My changed perspective, side trips galore, and a couple of snarky posts, as always. Thanks for reading, love you, mean it. Me RN:
Lauren Bernal
Professional writer, designer, and do-it-aller. Remote Year citizen/alum. Currently living in San Francisco and probably trying to avoid the terrifying amounts of pigeons.