Lima, que linda!
My tour of South America was just beginning with Colombia - and I knew that Peru had a LOT in store. The month ahead had a ridiculous amount of side trips, a visit from two friends, and a couple of my own world wonders in store. But, let's not get ahead of ourselves. My first two weeks in May were spent on the coast in Lima, and while there were definitely amazing, beautiful, super fun moments, it wasn't exactly my favorite city.
While being by the ocean is one of my favorite things ever, my apartment got the worst of this benefit - including having no outside air flow and a bit of mold...but I sucked it up since I knew that I'd only be there a couple weeks. Also, one of the first things that everyone noticed:
Lima is expennnnsive. Especially compared to other South American cities.
We had been very accustomed to decently low prices everywhere else we've been, for the most part (In South America). But stuff here was not cheap. Food, especially. (Did you see how much I spent at Maido on one meal?) And not just the fancy stuff. We're talkin' groceries. Clothes. Alcohol at bars. And yet, I couldn't let a silly thing like money get in the way of the awesome things I got to do. Because while it was definitely my most expensive month on Remote Year, it was one of the most memorable. And if you've been reading, you've probably realized this:
I value experiences over money. (Call me Big Papa in terms of "travel rich". Call me never when you want to borrow actual currency.)
So, with that being said, here's a recap of the two weeks I did obviously love about this city. And experience-filled, they were. I:
had an epic Sunday Funday with some of my favorite people and some new favorite locals. Waking up post-travel day (which somehow thankfully wasn't ended with a ridiculous clubbing experience), bright eyed and bushy-tailed, Myself, Morgan, Sami and Ben made our way to a small place for brunch n' beers. Later, Bambi and Betsy and Margit also joined. We ate these insane meals and drank a few beers while the others ran to grab other food since our restaurant had stopped serving by the time they got there.
As we were getting ready to find something else to do, we decided to ask the giant group of locals behind us if they had any suggestions on where to go. It kinda went something like this:
Sami: Disculpe, sabes que hay un lugar circa de aqui que tiene cerveza, oooo-
Local Man: AHHH! Si si...quieres ir con nosotros?
So we did. We followed the locals, who, as it turns out, were Spainiards, to their favorite Sunday spot, where a HUGE vat of paella and tons of "Tinto Verano" were waiting for them (and now, us.) Tinto Verano is Sangria-ish, only more refreshing. They offered us food, drinks, and their awesome company, and it was kind of the best way to start off a city, ever. Also, they bought us a chocolate cake. AN ENTIRE CHOCOLATE CAKE. Best humans ever.
joined the rest of the group overlooking the sunset and beach at this lighthouse that would become a pretty well known icon by the end of the two weeks (Meet by the lighthouse!). I tried Inca Cola, almost threw up in my mouth, and never drank it again. Also, the sunsets were amazing all month. Here was the first we saw. (above)
FOUND A SKATEBOARDING DOG IN THE PARK AND IT WAS SO MAGICAL JUST LOOK AT HIM GO
had our welcome event where some fun Peruvian dancers performed for us. Also got to see our city manager's house (it was held on the top of the roof) which was SO nice. Also, drank pisco and ginger ale because apparently that's the other drink you have in Peru. (AKA a Chilcano)
took a city tour which ended up being pretty disappointing - mostly because of how boring the tour guide was. That, and there's really just not a lot in downtown Lima. (Well, besides some of the architecture and the place where the Pisco Sour was supposedly invented.) I would've left early but we were so far from home that we just decided to stick it out. Anywho, here are some fun pics! (And just goes to show, TOUR GUIDES MATTER! Former college tour guide talkin' here...)
went to lunch for some "me time" and had some of the best ceviche of my life homahgawd. Go to La Preferida if you're ever in Lima. Order the one with Pulpo asado (grilled octopus) on top. Salivate. Eat. Find a genie to grant you three wishes. Use one of them to always have this ceviche on hand, forever.
did a bunch of workouts with a group of folks that involved running up and down a ton of stairs. The stairs went from overlooking the ocean to actually standing right by it. (See photos of the view above). We killed it. Then I ate crepes. Because...
I... Kept on hopin' - I'd eat Crepe! By the ocean!
(sorry, I had to.)
took a bike tour, which luckily, really made up for that crappy walking tour. Though, we did almost die a few times due to the super unsafe bike lanes and the general unsafe mindset that people in Peru have while driving. I honestly never would've realized how batshit people in other countries drive if I wouldn't have traveled here. So if you think Texans are "the worst" or whatever other stigma you have about people driving places, please promptly go to South America and see what it's like here...mucho scary. Regardless, YAY BIKE TOURS! And to some of the best gelato in the country. And to, yes, more street art.
went on the "Lima Bar Crawl", yadda yadda yadda, ended up at this crazy club called Ginja very late at night. Except for some reason, everyone left early (aka like, 3 AM). And for some reason, a few of us did not. And then THIS HAPPENED AND IT WAS SO CRAZY. And it didn't matter that we had to be up in 3 hours for a track event. Totally. Worth. It.
oh yeah also I found this during the pub crawl and put it on for some reason
Took a van to Pucasana to get on a boat, AKA a "Peque Peque", a traditional fisherman's boat. (Nope, not making this up. So many P words.) A bit of a rough morning (since that whole thing above happened just a mere 3 hours before we had to be there) but TOTALLY worth it as well. The boat ride took us to some cliffs where we saw TONS of sea lions and PENGUINS. PENGUINS, YOU GUYS! Peruvian penguins...sorry, just couldn't get over that fact. It was so cool to experience, considering I had no clue they existed here. We then threw in an anchor (a giant rock, let's be honest) and drank pisco and ate a bunch of cheese. Classy times. A bunch of crazy people also jumped into the freezing cold ocean. A few of them made amazing sea lions...
Post boat ride and penguin gawking, we ate more awesome ceviche at this restaurant before calling it a day - and it really was a great one.
had a drink at a bar but basically went to bed early because ya girl is gettin' old. Plus, we had another jam-packed Sunday, the following day. Another track event (both events were only planned back to back because this was the weekend that most people would be here since everyone and their mom left to explore Machu Pichu + Rainbow Mountain) which was AWESOME. We visited Sarcay de Azpitia, a pisco distillery about an hour outside of Lima. Little did we know, it would boast amazing views, an incredible distillery and tasting experience, and A LOT of pisco. We took a tour of the facilities, tasted 4 completely different piscos (some of which tasted fine and some of which tasted like horrible memories of Bacardi 151. Pisco, in my opinion, is NOT meant to be drank straight.) and then had a couple other drinks at their beautiful outdoor bar.
After arriving, we ate some typical Peruvian food (see our appetizer of yucca and super salty cheese, below...), saw some peacocks and chickens with better hair than I'll ever have, and finally took the tour, went into what looked like a science lab for alcohol, and drank all the things.
The ride home from the distillery, however, got a little...weird. We decided we needed an extra bottle for the ride, so we bought one, drank it on the hour van ride home, and Todd found out that pisco makes you pee-co. (Or just pee, I guess.) He couldn't hold it and for some reason decided that a bottle was the best way to relieve himself. The next thing we know...he's peeing into a bottle in the back of the van. Just another day on Remote Year. Even weirder? We thought nothing of it (except that it was hilarious).
watched Mai sing at an open mic night! (And I also sang because people made me.)
went to another track event, where a chef taught us how to make (and then cooked up) an amazing lomo saltado with risotto. I have no photos of said dish because I ate it so quickly. But we got to wear these ridiculous hairnets when we went back into the kitchen of the restaurant. LOOK HOW RIDICULOUS WE LOOK.
went to the park and watched the sunset with frands! (this happened a lot)
had the monthly Ramen-com with Sami. I need to do an entire post on all the ramen I've eaten this year, but this one for sure made top three. Also, the restaurant was themed with Asian cartoon characters, which made for a pretty awesome photo shoot.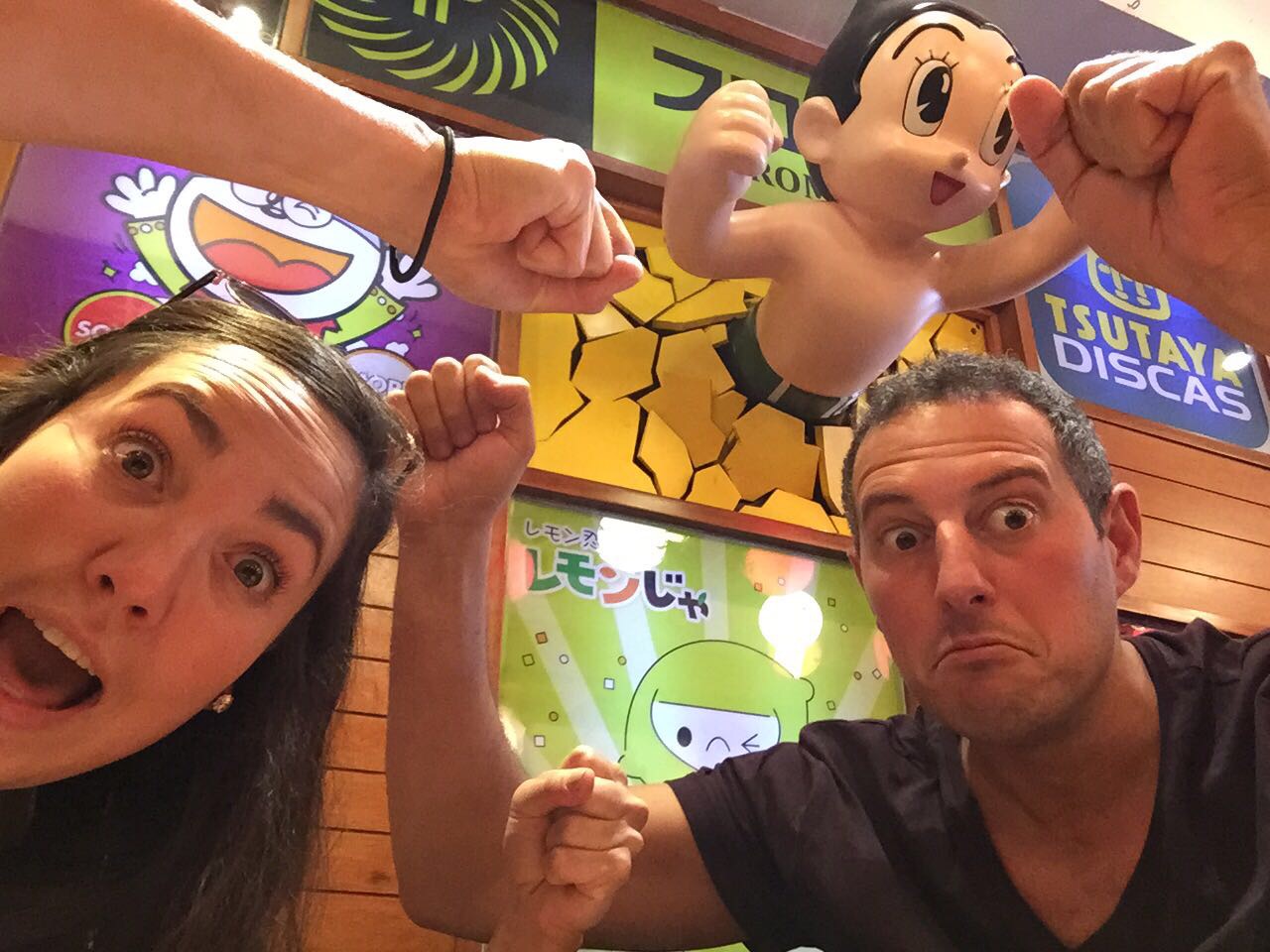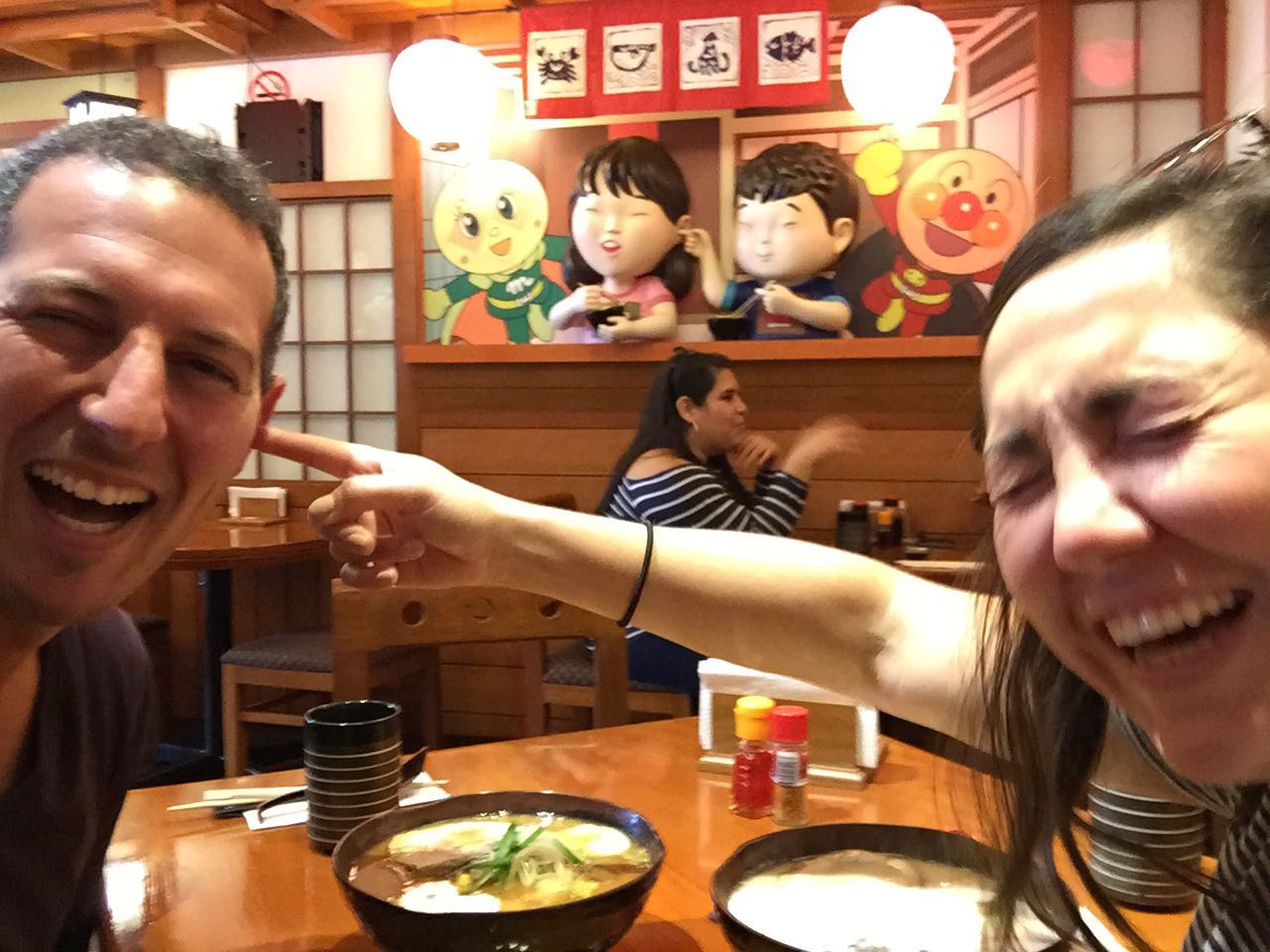 went SURFING! For the first time since Portugal, which was 9 months ago...so I was a little worried I wouldn't be able to do it again. Surprisingly, our group of 4 killed it and all stood up multiple times.
watched my friends do yoga on the grass while I slacklined and made a fool of myself. But the sunset that occurred while they were doing yoga made me glad I wasn't stuck in downward dog; instead, I got to see this, and then get yelled at by a security guard who would tell me to not hop the fence to enjoy the view while pondering life - whatevs, worth it.
made my own ceviche! And it was sooooo good.
had beers with a few friends on the rooftop of this artsy bar. Note: it was dark when we did this, so when I used my phone flashlight to make sure I wasn't going to trip as we were leaving, and we discovered THE. WEIRDEST. SHIT. The human company was great. The non-human scared the crap out of all of us. Frog heads should NOT be on human bodies.
Checked out a famous pisco bar, Ayuasca, and felt the need to try every pisco sour on their menu. AKA, like, 24 pisco sours. I meannnnnn...when in Peru? We also ate cow hearts on a stick because, well,
when in Peru...
ate more ceviche, worked from an awesome restaurant (La Bodega Verde) that happens to be right outside of the Modern Art Museum (while drinking an espresso and a Tinto Verano, because our Spanish friends inspired me early on in the month and also, it was a beautiful day outside), and watched the sunset at a restaurant on beach.
found Kraft Mac N' Cheese at the store and almost had a panic attack. A much needed taste of home (articficial or not), I cooked it (accidentally) by using vanilla yogurt (because I thought I had bought plain Greek.) Surprisingly enough, it was fine. Thanks, fake cheese, for always pulling through.
went to some random bar that looked really cool but it was kinda "meh" to me because honestly I was tired of bars. But we had a beer and then I ghosted, because sleep. Friday nights always tend to be the nights I'm either super into going out or very much into staying in. This was the latter. Oh, also we witnessed a crazy fight as we were leaving! But I didn't take pictures because I'm not a monster. (Also didn't snap them in time so...)
attempted to have a beach day at this beach that was supposedly really nice, about an hour outside of Lima. The weather had been beautiful and sunny the whole time we were in the city, but of course, when we decide to go to the beach, it was grey skies for miles. We laid out for a bit, ate more ceviche at a restaurant nearby, then headed back. Still cool to see, though.
Spent a saturday night in eating leftover mac and cheese and walking around the town. Came across this insane giant dance party in the middle of the center - casual. Can the U.S. start having giant dance parties in the park every Saturday night? I'd never go to bars again!
went to brunch at this awesome place that felt like a doll house and ate tea sandwiches all fancy-like.
saw the Nazca Lines! Ok, not really, but they were recreated by some lights, so, kinda counts?
decided to make dinner and cookies with Betsy and Erica at their place. Later, Marko showed up and ate tuna out of a can with some bread, which for some reason was just really funny to me and I had to capture it. Also, our cookies turned into just "cookie" - we added too much butter (HOW is this ever a problem???) and they all molded into each other. Still good, and really balanced out that nice healthy meal we cooked! :thumbs-up:
Aaaaaand that's how I spent all my time in Lima!
WOW that was a long post. I guess I did a lot, huh? Two weeks flew by and before I knew it, I was off on my side trip adventures. I welcomed friends and did the ultimate Machu Picchu trek on the Salkantay, hiked up Rainbow Mountain, and checked out the biggest salt flats in the world in Bolivia...of course, that's all yet to come (in separate posts, of course.)
Overall, Lima was a great city, but I was glad to only spend a couple of weeks there. Which is odd, considering I was clearly craving home (ahem, mac n' cheese). But two friends that visited me fulfilled that a little bit, and the adventures we had were things that I could never have seen myself doing in this lifetime. Still so thankful to be part of such an amazing experience like this and I still have no idea what I'm gonna do when it all ends in like a month oh my god why am I thinking about this now what is life AHHHHHHHH!!!
*breathes like a pregnant woman in Lamaz class*
Ok. Settle down. Coming up: all those things I said above. Stay tuned!
Lauren Bernal
Professional writer, designer, and do-it-aller. Remote Year citizen/alum. Currently living in San Francisco and probably trying to avoid the terrifying amounts of pigeons.