Gettin' Salty in Bolivia: What to do in and around Uyuni
B'oh-liviaaaaaa! *sung to the tune of the Activia commercials in the US from 5 years ago* Have you heard of this place? I had, but never put it on a list, never thought I'd be hand-standing (then falling) on salt, and certainly never thought I'd book a five day trip with 33 of my best friends to go there with. But, I DID! And with pics like this, can ya blame me??
First things first; do you guys what a Nathan is?
Nathan; Nay-thin (noun): 1. an amazingly generous and caring human 2. from Bolivia.
Nathan is the best. Not just another guy in our group but someone who genuinely cares about the feelings of others (very hard to find these days) offered the group an unforgettable trip to his home country to welcome us - he also hadn't explored much of it himself, so he thought it'd be a fun time with 30 other working travelers. Oh yeah, he also offered TO PLAN THE ENTIRE THING. This trip was epic (do people still say epic? I hope not.), not only because of the amazing places and people that we went with, but because one person who genuinely wanted to hang out with 30 of his friends for 5 straight days took a huge amount of time and effort to make sure that it was incredible. And it was.
Nathan, YOU ARE DA BEST.
We visited Bolivia at a particularly interesting time in our itinerary - after hiking Machu Picchu AND Rainbow Mountain, it was NOT time to rest, but rather hop on an overnight bus to La Paz, where our five day Bolivian adventure would begin. Because we're badasses. *flips fidget spinner*
The whole trip was 5 days and 4 nights, and it. Was. exhausting. But also, worth it, because I was with 30 of my favorite people ever and we all got to do it together. Also, when else was I going to go to Bolivia? (or rather, when else was I going to have someone else plan the whole damn thing for me? Seriously, travel logistics are hard, and Nathan is God.)
Before we get into specifics, watch this video to get yourself pee-your-pants-excited. Nathan made it, and it includes all of the things we did, along with some siiiick drone footage:
Here are the things we did, you should do, and possibly should not attempt (read: drink too much wine at a salt hostel causing...hostel-ity...among...salty...guests. Heh. Heh.) *shows myself out*
Probably the nicest hotel in La Paz. SO comfortable, pristinely clean, and all around awesome. They also had a great restaurant with - yes, pretty decent wifi! And it was soooo nice to sleep in a comfy bed after enduring #allthehikes for the past few weeks. A little pricey, but highly recommend. Much better than the salt prison we stayed in....more on that later.
Get yourself a Nathan, who treated us to the best meal ever at Gustu.
Nathan, being the fabulous foodie and generous person that he is, took us all to Gustu, one of the top 50 restaurants in Latin America (link above).
A 5-course wine pairing in Bolivia? OH OKAY. He also paid for ALL OF US because he's the most amazing human ever. The meal was incredible, and I highly recommend checking it out when you're tired of eating alpaca. (Though, you'll probs eat it there too. It'll just be way better.) Also, the restaurant itself is stunning, as seen below.
This place has trains that have all died - RIP. (jk, kinda.) Just on the outskirts of Uyuni which is otherwise abandoned, the train graveyard sits, yearning for flowers yet only getting graffiti. (YOUTHS!) An important transportation hub, plans were once made to build a bigger network of trains out of the city. However, the project ended up being abandoned - and so did the trains. Most trains would still be in better condition, however, all of the salt flying around doesn't make it easier for the paint and metal to overcome the rust and dust that holds their fate.
Explore Lake Titicaca and giggle to yourself about it, every time.
The lake is YUGE and definitely worth seeing. So. Much. Fresh. Air! And who would've thought that all those 5th grade social studies classes that you spent giggling under your breath would come to this moment? Shout out to Ms. Feldstone, my 5th grade social studies teacher. Sup girl. Thanks for teaching me about this lake. It was dope. Click through the pics to see for yourself! (Note: combine seeing this lake with the next thing, below.)
Take a boat to Puerta del Sol and the Floating Island (hint: BYOB if you're feelin' fun.)
Lots of water, a cool island with trees, another cool island with some little lodges, and finally, a great boat ride at sunset where many of us fell asleep. (Some of these photos are above!)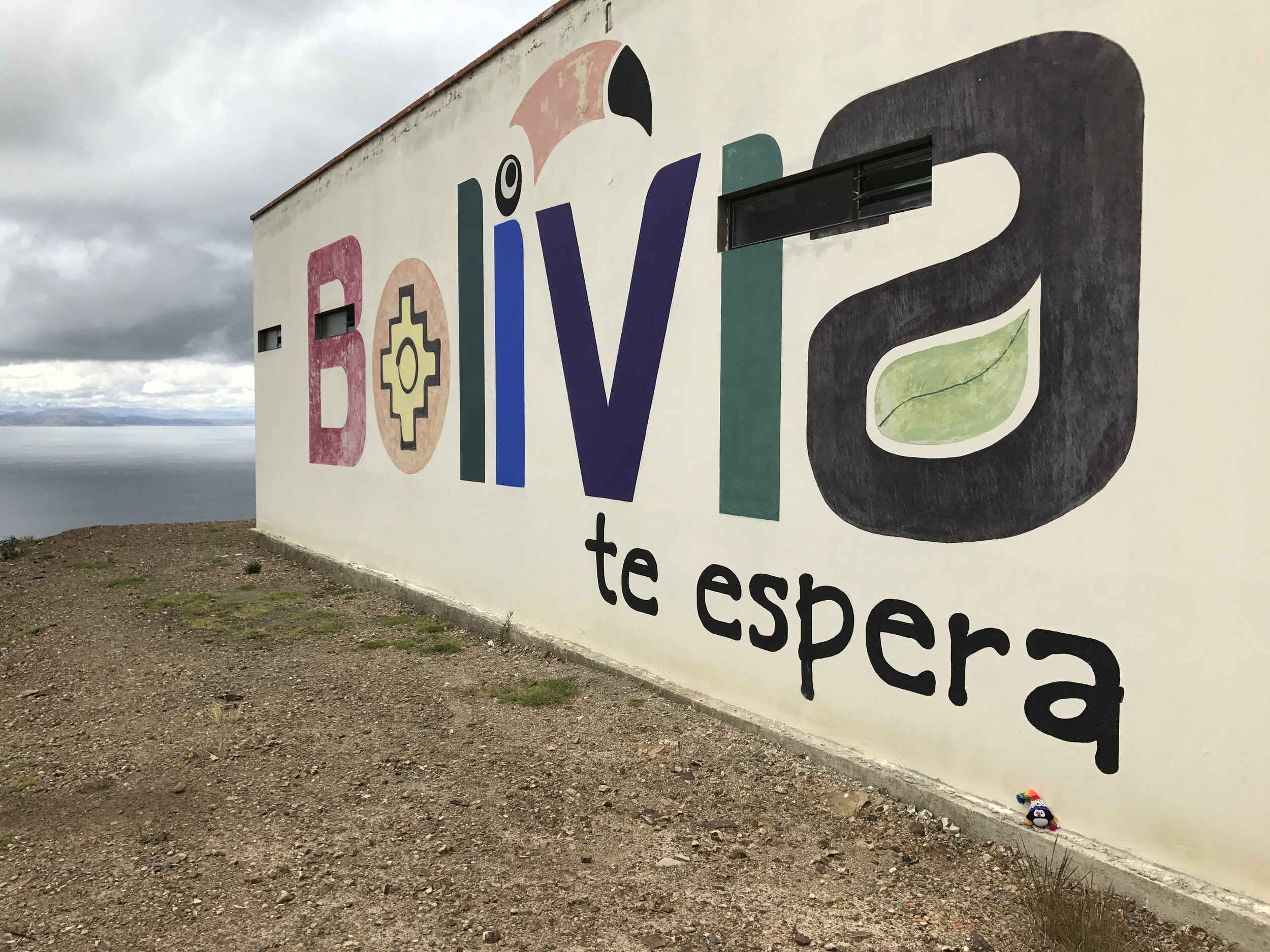 Stay in weird hostels.
If you can't afford La Cassona-style stuff, find the weirdest, cheapest, Bolivian hostels and have an experience. You're only young once, and you wouldn't dare stay here if you were old. #poor Also, not endorsing this place because I have NO idea where we were - originally, we were supposed to go to some hot springs, but the weather prevented us from driving and staying there, so our guides found this place. It was...special. Here's my friend above my head, along with our entire group yet again taking over the "cafeteria".
Check out Laguna Hedionda (The Colored Lakes) and become a flamingo.
While they weren't an unfamiliar color, the lakes are gorgeous and the mountains in the background don't suck, either. EMBRACE NATURE.
Put your faith in the unsafe.
We took a bus, while on a boat, while staying in the bus. Think about it. That boat goes down? An entire bus full of smart, funny, stupid people go down with it. Because we just put ourselves in a makeshift submarine with no safety measures and plenty of windows. However, we didn't die! Thanks, karma!
Some ancient ruins of the Incas aren't to be missed by history buffs. We had a small tour, took a bunch of photos, and felt the "energy rock" (seriously the most memorable part of it, for me). Everyone puts their hands on the rock for a good 20 seconds and then holds them together. You can legit feel energy from the rock in your BODY. It's crazy, and awesome, and super cool to experience. I loved the rock, but I honestly could have done without the tour and whatnot. But again, I'm not a huge history buff of that particular period. Worth it if you are. (check out my super confused face below.)
Wear the same clothes over and over again for the next three days. (If it's winter.)
It's cold. You're with a group of people who either love you or don't know you. Hot water access is limited, to say the least, and you'll be damned if you're going to take a freezing shower and then get into an icy cold bed. Relax. Loosen up. Who you tryna please? Be disgusting, like us. Bonus points if you all have matching hoodies. It's like a dirty backpacker uniform at this point!
Take an overnight bus to Uyuni and relish in the lay-back seats.
It's fun, you can bring wine, watch your downloaded netflix, and sleep all night. The seats recline and they give you a blanket (hint: maybe don't smell it) that makes a great foot rest. Change into your PJs and count dem sheep! Totally worth it, especially if you take a sleeping pill and then don't realize what's happening because it's still not completely done doing its job when you have to wake up. #LoopyLauren
Embrace the in-between.
You'll do plenty of things in between getting from place to place. Embrace it. Play hackysack. Take cool pictures on railroad tracks. It's "not the destination, it's the journey". So grab each others butts! Take a circle selfie! Find the only wifi in hundreds on miles! Find a baby doll and a knife within three inches of each other and take a picture because what the hell is this, why are these things so near each other?! Take advice from Pinterest, for once, people. Especially if your'e with friends, because, as I mentioned in another post, it's who you're with that counts most.
Actually explore La Paz.
The city is filled with awesome markets, scenic overlooks, great food, and little old ladies sitting under dead baby llamas hanging from the ceiling. Wait, what?
Take all of the animal pictures!
Most of them are v friendly. Even the rats of the sky liked Gianni! Also, I believe I was born to be a flamingo. But that's just me.
Get salty and stay in a salt PaRaDiSe.
Did you know you could build things with salt? The only thing I've ever seen as far as blocks of salt go are the ones that horses and other animals continually lick. This is not that. At Casa Andina Hotel del Sal everything is simply made of salt. Including the COUCHES. And the BEDS. (Note: please do not lick the furniture.) There were cushions, of course, the showers were hot (in some of the rooms) and it was so great after traveling around. is the place. GO SLEEP ON SALT BEDS! (They're surprisingly comfortable.)
Visit the incredible island of cacti in the middle of the salt flats and become a cactus.
Isla Incahuasi is AMAZING and lies in the middle of nowhere within the Uyuni salt flats. a former island that was once underwater, it's now what remains of an ancient volcano, which was submerged when the area was part of a giant prehistoric lake, roughly 40,000 years ago. Makes for a fun little hike to the top AND some killer 360 photos from your friends.
Drink llama sperm at the best bar in Uyuni.
IT'S NOT WHAT IT SOUNDS LIKE. It's a shot. And it looks disgusting. But it's actually delicious. The best bar, hands down, in Uyuni, is Extreme Fun Pub. And it's called that for a reason. With a ton of various drink challenges, the chance to win a free shot just by letting them "brand" you on your butt, and much, much, more, it's perfect for when you're done being A-SALT-ED by the salt and need a drink or five. Also, the place itself is just, well, EXTREME FUN.
EAt salt from the ground in Potosi and check out the people who harvest the salt.
Thanks for giving bland, shitty food some taste, guys! This was really cool. You can visit their little factory, see the salt harvesting in action, taste salt from the ground like Becca did, below, (not sure if they advise this but whatevs) hold a giant, scary, pick-thing, and maybe even find this little girl again. She. Was. Adorable.
And while you're at Potosi...
BUY LLAMA AND DINO AND PRINGLE PROPS!
Or whatever else you want to make an appearance in your awesome salt flats photos. There are tons of vendors that have things if you forgot to bring them, and it's totally worth it for your pics. Because, obviously, you're going to take a ton. And you're going to need fun props to get make those perspectives look real.
Take ALL of the salt flats perspective photos that your heart desires.
Get your instas on POINT. Llamas, Pringles, dinosaurs, wine bottles, passports, skittles - use anything and everything to make those pics PoP. Check out all of ours and maybe even steal some ideas from the pics below:
Do, or don't, drink too much wine at a hostel post-salt flats.
Look. It was a LONG five days. We were tired, we were hungry, but mainly, we were very thirsty. When we arrived to our long-awaited salt prison (this place wasn't as great as our former paradises were) we were greeted by a nice Bolivian man who sat behind a glass window in what looked like the commissary of an actual prison...except for the fact that he sold alcohol. And what else was there to do besides buy it all? So we did. And we played games and drank and played music and drank and wore the same clothes and annoyed the three other guests that were there (because we actually took over the entire place) and someone made a mess in the bathroom. But that's a story for another time.
All in all, Bolivia is amazing. It's a bit rough, (and will definitely be rougher without a Nathan) especially if you're trying to cram everything into four or five days, but even with a guided bus and itinerary. (Whoever you choose to hire will probs have a great TripAdvisor rating or whatever, so I won't even name ours here.) The season is also a huge factor - I thought that when we were there was a good time (end of May) mostly because if it were scorching hot, we would have sweat through all of our clothes. However, cold showers would be welcome in that case, so to each his own.
My main advice?
See Bolivia. Experience it once. Tough it out. And don't smell your friends. (But still keep loving them, because you smell too.)
Lauren Bernal
Professional writer, designer, and do-it-aller. Remote Year citizen/alum. Currently living in San Francisco and probably trying to avoid the terrifying amounts of pigeons.